Programme notes and CD notes
Katy Hamilton's brilliant (and free!) programme notes… – Stephen Bush, Financial Times
I have been writing programme notes for professional recitals for twenty years, for both chamber venues and orchestras. My notes are used by a range of venues including the Wigmore Hall, Royal Festival Hall, BBC Proms, Salzburg Festival, Boulezsaal Berlin, Ryedale Festival, Edinburgh International Festival, Leeds International Piano Competition and the Lakeside Arts Centre, Nottingham, who first employed me to write notes for them in 2004! If you would like to commission notes, please use the Contact Form to get in touch – length and level of detail are always matched to suit venue and audience preferences.
I've also written CD liner notes for Decca, Pentatone, BIS and Delphian Records, covering vocal, choral and piano music from the seventeenth century to brand new works. It's been a pleasure and a privilege to work with leading musicians including Benjamin Grosvenor, Roderick Williams and Carolyn Sampson on these projects. Take a look at my Publications page for all the details.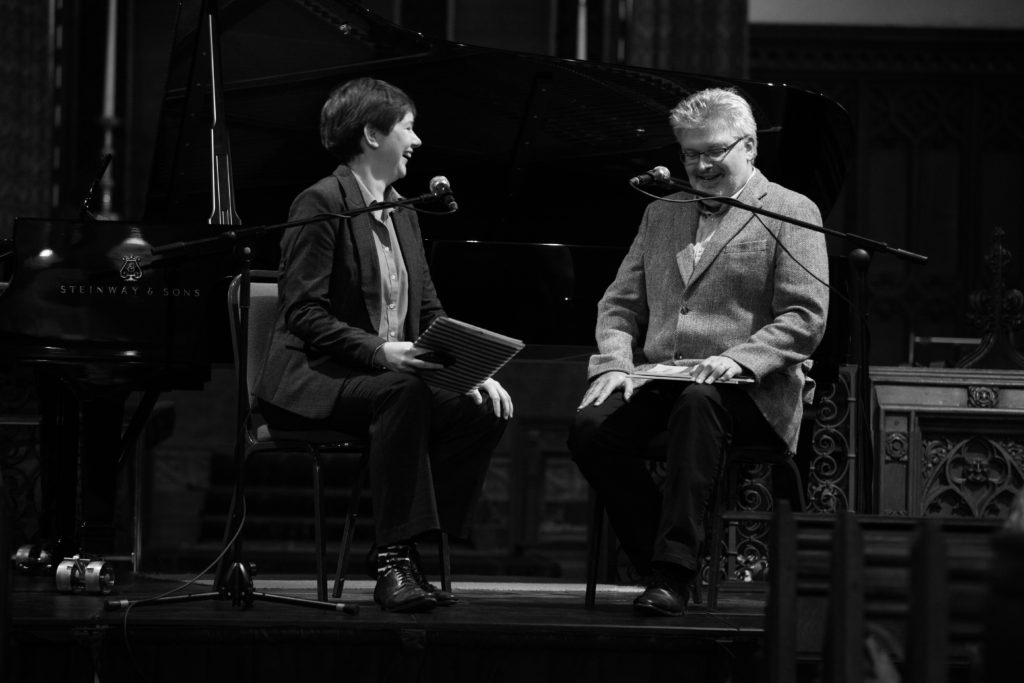 Interviewing Sir James MacMillan at the 2016 Ryedale Festival, © Gerard Collett
Pre-concert talks and other introductions to music
In addition to writing notes, I love engaging directly with audiences. I've given talks before and during performances, included straight and semi-staged readings; I've also interviewed performers and composers and run Q&A sessions with artists and audiences. And I give one-off talks or regular classes to specialist and non-specialist music groups. In particular, I'm a tutor at City Lit and an expert lecturer for Martin Randall Travel. I also offer presentation skills sessions for musicians who want to build confidence in speaking to their audiences! Do get in touch if you'd like to know more. Upcoming talks are listed on the Events page.
You can find examples of my recent talks and interviews elsewhere on this site: check out Around the Web.