'Britain's most versatile pianist', 1954
This week, I'm delighted to be able to write about something that, like so many interesting things, I came across completely by chance whilst at the British Library. I've been reading through back issues of The Stage magazine from the 1950s, and in hunting down reviews, my eye was caught by a photograph of a striking woman in the top corner of one page. It was a profile piece with a short interview. As I glanced down the accompanying text, I found myself reading:
I like Bach… and I like boogie. Why not? Each has its own quality.
Well now. This was interesting. The date of the article was 13 May 1954. And the interviewee in question was Kay Cavendish.
For those who have not heard of Kay Cavendish – and I most certainly hadn't – here's the story. Born in 1908 as Kathleen Dorothy Cavendish Murray, she was both a talented sportswoman and musician. She trained at the Royal Academy of Music as a protégé of Henry Wood, where she was a gold medallist, and began a successful career as a concert pianist with debuts at the Wigmore Hall and the Queen's Hall. (On the sporting front, she took part in Junior Wimbledon, played county lacrosse for Surrey, and represented England in fencing and hockey.) When she appeared on Desert Island Discs in 1962, she chose the Bach Concerto for Two Violins BWV 1043 as her favourite, and Elizabeth Schwarzkopf, Moura Lempany and the RPO were among the performers of her selected works. So far, so classical.
But since classical musicians almost never confine themselves to only listening to classical music – thank goodness – Kay Cavendish was also very interested in what can loosely be termed 'light music' and jazz. In 1930 she became part of a close harmony group called 'The Cavendish Three', which toured Britain and broadcast on ITMA. When the war began, she entertained for ENSA and appeared on numerous BBC variety programmes. There is even a Pathé news reel about her, dating from 1945, as she returned from the front to begin concertising again in the UK. Later she had her own show, Kay on the Keys, which ran for over 400 episodes, and featured piano and vocal solos, and a mix of classical, jazz and popular music.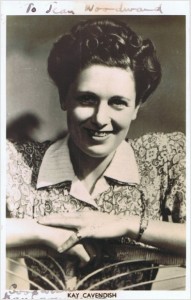 The article I came across in The Stage was not only a wonderful little summary of her career to date – announcing, amongst other things, that 'She is now on a concert tour with Guy Mitchell and the Ronnie Scott Orchestra, playing in the intimate rhythm style which has made her a favourite'. It was also her chance to provide the short, sweet, and entirely brilliant justification for her classical-popular (and what woefully inadequately named 'opposites' they are) career, as quoted above. She liked Bach. She liked boogie too. That Desert Island Discs list also featured Peggy Lee, Harry Belafonte, Stanley Black and his orchestra, and Clebanoff Strings and Percussion. And that was just fine. (They're all on Spotify, by the way – and really worth a listen.)
In addition to her extraordinarily successful broadcasting career (she made more than a thousand broadcasts for radio and television over the course of her working life), Kay Cavendish also toured with two stage shows: Music for the Millions and, in 1955, From Bach to Boogie, in which she played both classical and jazz pieces. Given the title of that show, she was clearly thinking about it when The Stage came to call in May 1954. She retired early, in 1964, and died in January 2000.
The story of a musician like Kay Cavendish reminds us of how closely, over decades past, classical music and all its relations have sat side by side in popular, public entertainment – in variety, most of all. 90% of us working in the music sector today know that this is still the case, in different ways, and that co-existence of a multitude of different styles and approaches is what makes for a healthy and varied culture for audiences, performers and composers alike. But there is a contingent of… one might politely refer to them as 'purists'… who naturally develop a sneer in their voice when referring to anything that is not Their Kind of Proper Music. This is also a stance taken by polemical journalists who wish to indicate that classical music is dying (an angle very beautifully questioned and parodied by Andy Doe and The New Yorker earlier this year). The great irony is, of course, that these multi-talented musicians did a huge amount to bring audiences to classical music who might never otherwise have got there. How many people would have tuned into that Desert Island Discs because of Kay on the Keys and found themselves rather enjoying the music of Bach and Franck? How many people did the likes of Victor Borge inspire in his side-splitting parodies of Mozart, Liszt and others?
Music is endlessly rich and varied, endlessly engaging and, yes, endlessly entertaining. That word is not a euphemism for trite, or vapid, or without depth of emotion and meaning. The likes of Kay Cavendish are worth remembering as we look for new ways to explore music of all genres, times and places. Bach, and boogie. And the qualities of them both.