Face to face with the action
Opera, Oxford, and online learning. Perhaps not the most likely combination of things for a post. But this week I've been thinking a lot about how important, complicated, uncomfortable, and utterly necessary it is to be in the room with certain things to really try to understand or think about them fully. And it is on this little alliterative group that I'd like to focus.
The opera – apparently so controversial that it's still resulting in death threats, social outrage, protests and cinema bans – is John Adams's 1991 work, The Death of Klinghoffer, due to open at the Met in New York on Monday. Promises of disruption on the opening night, furious messages labeling the work 'fascist' and insisting that the set should be 'burned to the ground', have dogged the preparations for this performance. As various articles in the New York Times have sought to demonstrate, many of the objections to the opera are based upon an idea – and not always the right idea – of what actually occurs in Adams's piece, rather than the reality of the staged work. 'The extraordinary strength of that opera,' director Tom Morris observed, 'and the play that it's based on, is that it does allow some sort of insight into the mind of someone who might do that' (that is, the minds of the terrorists who took over the cruise ship Achille Lauro and murdered Leon Klinghoffer). Certainly Klinghoffer is a powerful and incendiary tale; but for me, anyway, its potentially negative power can only be diffused by confronting it, and being in the theatre.When I went to see ENO's performance at the London Coliseum in 2012 I found it profoundly moving, very beautiful, tragic and violent, and above all, thoughtful. It forced the audience to confront both sides of the story. It made us think.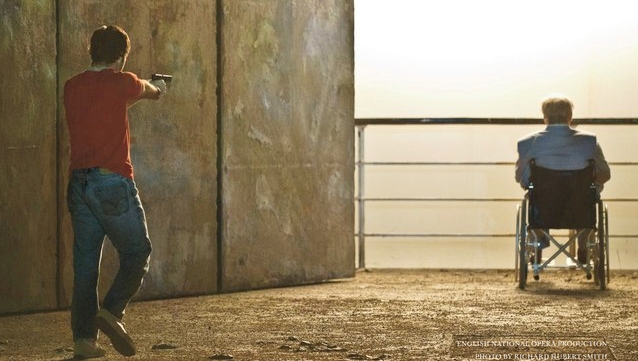 Meanwhile, the Oxford Lieder Festival is once again off to a flying start, with a jam-packed schedule of concerts, masterclasses, study days, film showings and other events, and the ambition to perform the complete songs of Franz Schubert (over 600 of them) by the end of the season. As part of this year's programme, a new play was commissioned from Iain Burnside (whose Journeying Boys and A Soldier and a Maker have enjoyed such success over the last few years). In Why does the Queen Die?, we see Schubert and his closest friends and associates, from 1815 until the end of this life. They laugh, drink, swear, write poems, dance, argue… and Schubert is at their centre, loved by all of them and yet often hidden behind the hulk of the piano, playing waltzes and eccosaises and remaining quiet. The cast – all students from the Guildhall School of Music and Drama, with a guest turn from Adrian Thompson as the great opera star Johann Michael Vogl – must sing and play throughout. For the pianists in particular, this was a new departure, and they were entirely new to stagecraft when the project began. If one might posit that the result is not worthy of a West End transfer, I can only say that such a judgement is entirely irrelevant. These young musicians are given the opportunity to inhabit the world of musicians and poets whose names were previously only paperbound for them; and we have the chance to watch them. The Schubert circle talk over his compositions, play them in arrangement, act out melodramas to the Lieder. They give us the live, messy reality of being at home with creative artists. And once again, we are confronted with a different way of looking at things we might think we already know, a thought-provoking and quite beautiful world in which things go terribly wrong, and wonderfully right. It takes tremendous bravery to seek out that world in the midst of the imposing documentary edifices that have been constructed around Schubert and his world, and I salute Burnside and his cast for doing so.
Last but not least, there is the day-to-day dilemma of the role of human interaction (in the same room, the same timezone, the same physical space) in our society at large – and of particular interest to me, here, is the classroom. In her new book Online Learning in Music and a linked blog post, Judith Bowman discusses the power of online learning and the potential of technological enhancement in a digital classroom. She talks about the use of language around online learning (language being another bugbear of mine – see last week's blog post), and how to encourage students and teachers to think differently about this new kind of teaching, and the mindset surrounding it. She talks about how to hang on to the 'approachable' elements of face-to-face teaching whilst working through the computer screen. Her enthusiasm and practicality are admirable, and the advantages to online teaching and learning undeniable. And yet (and perhaps I am just terribly old-fashioned about such things), I have never been able to maintain the spontaneity and ease of a 'real life' conversation over Skype or conference call, even with work colleagues or friends. I have never been able to rouse my interlocutor to argue, unpick, debate in the same free and thoughtful way when they are not in the room with me. Why? Perhaps it's partly my technique. But also, I would suggest, it's because they're not in the room with me. Like it or not, at the moment – and perhaps this will change as technology becomes more and more a part of everyday living – we just act differently if we are sharing physical space with someone. We can't get away from them or their thoughts, their ideas, their voice. In 2007, this was most eloquently put by a young girl talking to the eponymous grumpy doctor Gregory House. 'I'm going to base this moment on who I'm stuck in a room with,' she said to him. 'It's what life is. It's a series of rooms and who we get stuck in those rooms with adds up to what our lives are.'
Why does the Queen Die? will, I hope, be receiving further performances very soon; meanwhile the Met has been forced to cancel its cinema broadcast of The Death of Klinghoffer, so only a ticket to the theatre can get you eye to eye with the problems and tragedies that it unfolds. As for teaching? Of course online resources have their place, and of course the communications technology at our disposal give us freedom to interact in ways we could never have dreamed of before. But in my own humble experience, I prefer the old-fashioned classroom that we must all share together. Being stuck in a room with people can do you the world of good.