Give yourselves a round of applause…
Let's hear it for the audience. For all those people who, in pursuit of the magical experience that is hearing music live, will cough up sometimes sizeable ticket fees, book babysitters, dash from work and wolf down a sandwich on the train, battle with difficult parking or stump across grassy fields to get to their venue of choice. And, once they arrive, are expected to sit still – perfectly, silently still, coughs stifled and sneezes swallowed – and listen.
We spend a lot of time reading about how impressive an audience member (or at least, a professional critic assuming the position of an audience member) finds the performers on stage. But today, I wanted to write about it from the other side of the fence: about just how impressive an audience can be to the performers.
Last week, I spent five glorious days at the Ryedale Festival, an ambitious, top-quality music event that runs over two weeks across a tremendous range of venues, from York to Scarborough. I had been invited there to introduce a series of four concerts, a mini-series in which listeners would get to hear all six String Quartets by Belá Bartók in parallel with the six Quartets of Haydn's op.76. The Doric Quartet came to play Haydn, the Heath Quartet to play Bartók, and each concert paired the works by number: 1s and 2s in the first evening concert, 3s and 4s in a coffee concert each, and 5s and 6s in the final evening concert on Wednesday. On each occasion, I was allotted half an hour to talk about the structure of the works at hand, their background and context.
It was only as they were gradually proved false that I realised I even had any expectations of the event. Apparently I expected the take-up for the talks to be small: it's usually only the real die-hards who will eat dinner even earlier, or in the case of the coffee concerts, get out of bed with a further hour to spare, to come along to listen. And whilst the combination of Bartók and Haydn is musically and creatively very rich indeed, it can also be viewed by the cynical as a way of sweetening the Bartók with something more grateful and easily graspable. They are tough works, those Bartók Quartets, and quite a shock if you're not expecting them. And since audiences for classical music are often predominantly made up of those at retirement age, they tend to already know what they like, with the angular and sometimes violent sounds of this Hungarian composer perhaps seldom amongst them.
But not a bit of it at Ryedale. The music director, Christopher Glynn, called me the weekend before to finalise details and casually mentioned that the first talk was already sold out. I found myself in the grand central hall of Duncombe Park with over 100 people listening attentively to my talk, in which I was wonderfully assisted by members of the Heath and Doric Quartets. I closed, as I usually do, with an invitation to come and ask me questions afterwards if anyone had queries (something that seldom actually takes place). In the foyer before the concert, I was approached and chatted to non-stop for almost half an hour. And at the interval, too. The audience – and I'd been about right in terms of the demographic, age-wise at least – were walking around full of enthusiasm, eyes shining. What amazing music, they said! They'd not expected to enjoy it, but they would certainly be back for more…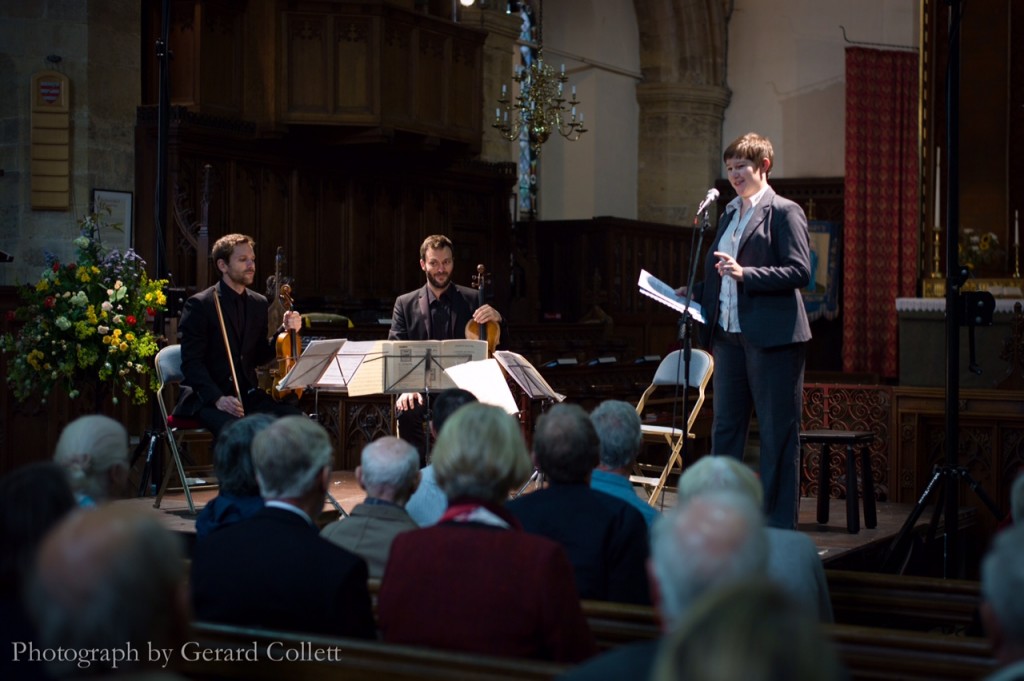 And so it went on for the remainder of the concerts. We had the most superb turnouts for every talk, and as the days passed I met a good many audience members who were in it for the duration and curious to find out more. Heck, one of them even apologised on the last evening for having missed the previous day's event because their car had broken down. They drove miles across the North Yorkshire countryside, arrived smiling and eager to hear new things, and were clearly excited and moved and delighted by what they discovered.
It was incredibly humbling and moving to be a part of this audience's journey. And it reminded me how easily we can fall into jaded and unfair sets of stereotypes and expectations about people and events. Just because your audience doesn't consist of thirty-year-olds, as we in the classical industry all seem to panic about on a daily basis, it doesn't mean that the people in front of you are not utterly passionate and curious and engaged. It doesn't mean they aren't eager to learn and willing to explore and experiment, to seek out new musical horizons. My audiences, I hope, felt valued that we worked in the talk sessions to show them the musical architecture of the quartets, and provide them with details about the composers' lives. Certainly their response, to the talks and performances alike, made us on the stage feel hugely valued.
At the end of the day, the relationship between those performing and those listening should always be one of mutual respect and understanding. That is something we should never forget. Without our music, the audience members' lives would be logistically less complicated and lacking in the colour, emotion and energy we can offer them. And without the audience? Without the audience, we'd all just be talking to ourselves.
***
The Ryedale Festival runs until Sunday 2nd August 2015 – more information is available here