Hearing Beethoven
It's that time of year again, and I'm back in the stunning surroundings of north Yorkshire for the 2016 Ryedale Festival. Better still, I've been working again with the wonderful Heath Quartet in four concerts, presenting the entire late Beethoven quartets in tandem with T.S. Eliot's Four Quartets, read with tremendous beauty, musicality and emotion by Jeremy Irons. The last concert was last night, and whilst I could reflect at great length about the music, the poetry, and the awe-inspiring artistry of the creators and interpreters of these works, I want to write instead about the audience, and how we introduced these works to them.
Followers of this blog might remember that I wrote last summer about the splendidly enthusiastic, intellectually curious, dedicated and good-humoured audiences of the Ryedale Festival. It's been a total joy to see familiar faces again this year, meet up with old friends and receive reports of conversions to Bartók (the complete quartets were performed by the Heaths last summer). But Beethoven is an interesting one, and the range of reactions I've had this year have been fascinating and thought-provoking in a different kind of way.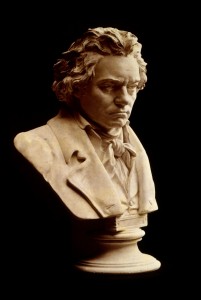 On Thursday, as we all sat in St Michael-le-Belfrey in York, reeling after a superb performance of the A minor quartet op.132, the man sitting next to me (who had been at my introductory talk), said, 'I wonder – how do you listen to music like this? I mean, do you hear it like I do, or are you constantly analysing it as it goes?'. On other occasions, I have had people come and talk to me about their passionate love of late Beethoven; their very late conversion to it after years of not liking it; the revelation of finding various details in it, through our introductory talks and deconstructions, after having listened to it relatively uncritically for so long; even, in one case, someone who found the entire shape of their life changing, a whole new set of decisions taken, as a result of listening to it. The Beethoven myth may take many forms, but there is nothing quite like reading about the impact that this music has had on numerous people who have loathed or adored, accepted and trusted this music over the course of their lives.
I gave some thought to the question of how I listen to these pieces. I mean, obviously I'm not a superhuman music analysis machine. I think I probably pick up on a few more details than the average listener because of my study and unpicking of the works – the thematic relations, unusual modulations, the in-jokes and the self-referential quotations. Above all, I feel as if, the more I read about and work through and listen to these pieces, the stranger and stranger they actually sound. It's fanciful, of course, to think you can ever reclaim the sense of being a listener in 1827, and wipe from your ears and your mind all of the music that they could never have heard. But I feel as if I'm becoming more and more sympathetic to the bafflement of those early audiences with every passing hearing.
This experience of getting inside the music is something that takes time. But you also need 'ways in', and opportunity to bring together words – spoken or read – with music to unpick what's there. And us pre-concert talkers can't really do this alone. One of the aspects that makes the Ryedale introductions so special is that it isn't just me on my own, but five of us: me and all four members of the Heath Quartet. As soon as the musicians are involved as well, there is suddenly a golden opportunity to pick out ideas, deconstruct themes, draw attention to similarities across movements, build up and break down textures to see how they work, and so on. It makes a difference, to both the speaker and the audience, that is incalculable.
Despite the many rewards of such rich collaboration, such a thing is very rare. Talks are mostly organised entirely separately from concerts, and the majority of performance and introducers never actually get to say hello to each other, let alone plan demonstrations and on-stage analyses together. This has always struck me as a tremendous shame. I can well understand that sometimes, performers need to sit quietly on their own before a concert, and I'm not suggesting that it is always the only way to deliver an introduction. But the reaction of Ryedale audiences, both this year and last year (when the Heaths were joined by the Doric Quartet for Haydn and Bartók cycles), suggests that there are a huge number of new insights to be gained by working together. These include insights for the players (sometimes I find things they haven't read about), the audience, and the speaker, because you cannot reasonably discuss physicality of playing, the technology of the instrument, and the finer details of interpretation until you have been able to have that conversation with the musicians who actually have to do the work of making the music sound.
So as I take a little rest today after the extraordinary journey of the last week, I can only offer thanks – to the fabulous Heath Quartet, to Jeremy Irons for his revelatory readings, and to the audience for wanting to know more. And I offer a plea, to those who organise regular concert series, and consider booking speakers to introduce their programmes: please, let us speak to the artists. Let us consider, particular for works which audiences may find elusive, or unusual, or simply new, how we might – in combination – find ways of showing them ways in. Let us work together to help us all listen just that little bit more deeply.