For Robert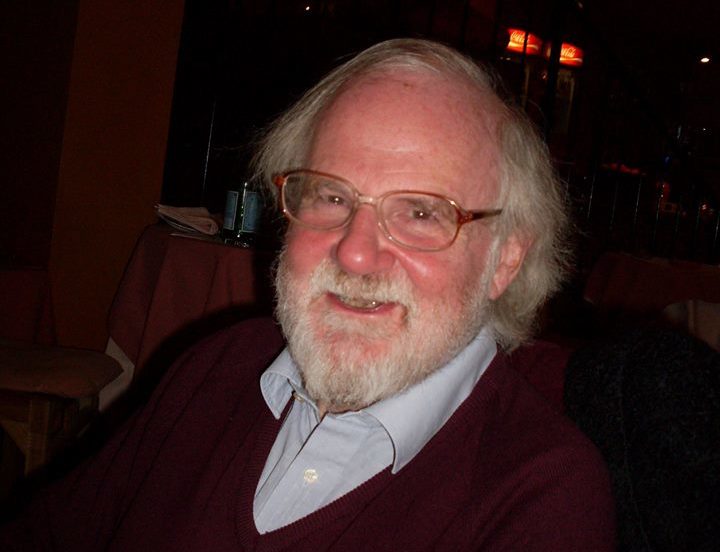 At the beginning of this week, I had the very sad news that Professor Robert Pascall, internationally-renowned Brahms scholar, wonderful teacher, and dear friend, had died. Robert was the most amazingly generous, inspirational man and had friends and grateful students all over the world. I wanted to take a moment today to remember him, and the kindness and encouragement that he showed me when I was still a rather clueless undergraduate at Nottingham University.
When I arrived as an undergraduate at Nottingham in 2000, Robert was no longer teaching there (he had joined the teaching staff at Bangor, delighted to be working near the place of his own birth, Colwyn Bay) – but he and his wife still lived in Nottingham, and so he was usually home at weekends and often came along to concerts at his old place of work. It was the end of my first year, and I had been acting as the repetiteur for the University Choir. We had been working on partsongs by Schubert, Schumann and Brahms (my first encounter with the repertoire that was to form the basis of my own research a few years later) but the concert needed a little extra music to make up time, so I had been asked to perform a few of the late Brahms piano pieces. As I was about to walk out onto the stage, a veteran choir member tapped me on the shoulder. 'You do realise,' she said with a smile, 'that there's an internationally-recognised Brahms researcher in the audience, don't you?'. Just what you want to hear, of course, when you're already nervous… I don't recall thanking her for this piece of information.
In any case, Robert – for it was he – came bouncing up to me at the end of concert, full of warm compliments and kind words. I encountered him at a number of events over the next few years, heard him speak (he was a wonderful presenter, his passion and enthusiasm so evident in his voice, as it was in his writing), and visited his home with mutual friends. By the time I had begun my Masters, I was contemplating writing my dissertation about Brahms and we were corresponding and chatting often about various biographical and analytical details. The University library was very good, but lacked certain volumes which could have been helpful; Robert at once invited me to his home, to work in his study and peruse any of his fantastic library collection which might be useful to me. He also gave me copies of some of his own work, and I remember my stomach turning over in pride and astonishment at the little dedication he had written at the top of one: 'To Katy Hamilton, from her fellow Brahms researcher.' The idea that I, and my amateurish scramblings through the subject, could be in any way comparable to him was amazing, inspiring, and humbling all at once. I was never particularly good at having faith in my own abilities; but Robert was. He was unstinting in his support and gentle encouragement. When I graduated with my Masters, my dissertation written and the promise of further postgraduate study ahead (thanks in part to his enthusiasm for the idea), he presented me with a handsome book by way of a congratulatory gift, once again beautifully inscribed.
I decided to take a year's break before I took up my PhD; it was Robert who put me in touch with the scholars running the new Brahms Collected Edition in north Germany, and I spent six happy months living in Kiel and working with their collections, thanks to him. When I had difficult decisions to make about where to study, he offer sage and gentle advice. As it happened, my PhD viva fell the week before a conference that I had co-organised with my doctoral supervisor at the Royal College of Music, and when he arrived to present at the conference he was full of praise and delight that I had passed. The scholarly circle around Brahms is a warm, convivial and affectionate one, and we ended the conference with a spontaneous sing-along around the piano of the Liebeslieder-Walzer, Robert at the piano beside one of his German colleagues, and the great senior and junior (I the most junior of all) Brahmsians gathered around the piano bellowing merrily along. It was a fascinating conference, with a string of passionately argued and lovingly-researched presentations, an exhilarating crowd to feel a part of – and it was fun. It was everything, in other words, that is the best of scholarship. And dear Robert was at the centre of it all. His contribution was among the chapters of the book we published a few years later, based on that conference, Brahms in the Home and the Concert Hall.
This week, my old doctoral supervisor, now a close friend and colleague, and I sent off the manuscript of our next Brahms book to the publishers. It was a bittersweet moment on Friday afternoon, the culmination of several years' hard work and contributions from researchers across Europe and America. I'm so proud at what we've made. And I'm so proud to have known such a fantastic human as Robert. Quite simply, I would not be here, doing this thing, working as I do and understanding the breadth and depth and possibilities of musical research without him. Brahms in Context, our new book, is dedicated, with tremendous gratitude, and great love, to his memory.