Waistcoat tales
Last Friday morning, I stood in the beautiful parish church of Birdsall, in North Yorkshire, and said good morning to the eager crowd gathered before me. I pointed down at the navy blue waistcoat I was wearing, and took a moment to offer the service announcement that I had, in fact, owned and been wearing it for a number of years before this year's World Cup. Which earned me a round of applause… before I then got on with the main business of my being there, which was introducing the life and music of Antonín Dvořák.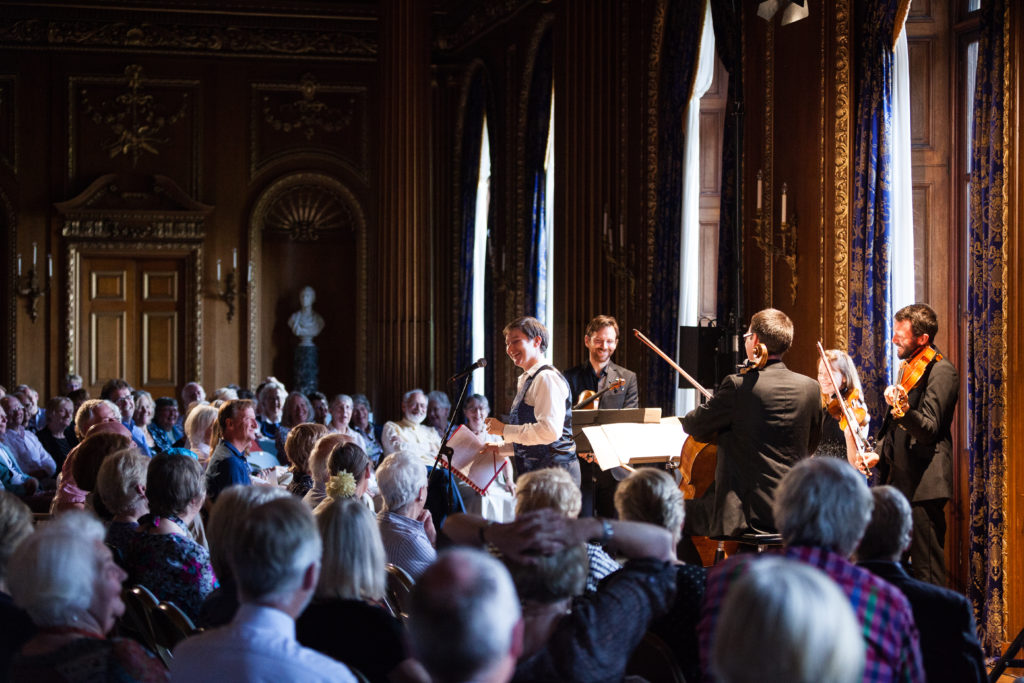 Yes, it's the Ryedale Festival once again, and this year the poor audience will be sick of the sight of me by festival end: I've so far given four talks on Dvořák's chamber music, in advance of wonderful concerts given by the Albion Quartet and friends (including some beautiful performances of Dvořák's songs, which deserve to be far better known, by Harriet Burns); and I've had the pleasure of interviewing Chi-chi Nwanoku about her own career and the Chineke! Orchestra; and on Friday, spoke with Judith Weir, the Festival's composer in residence, who was a joy to interview. It was moving indeed that one of the performers in the concert that followed, Elin Manahan Thomas, took a moment to tell the audience – and thus also Judith – that the piece she performed, the fabulous King Harald's Saga, was the only reason that she was still a professional singer, and hadn't given it all up years ago. To know that something you have created has had such a profound and positive impact on someone's life must be quite something. It was lovely to see Judith embrace Elin at the end of a truly stonking rendition of that grand opera in three acts (and ten minutes!).
Of course, since I'm around for much of the rest of the Festival as well – my last talk, another interview with I Fagiolini's Robert Hollingworth next week – I have been attending quite a few of the other events and having the chance to be off duty, and in mufti, on several occasions. There has not yet been a single one of those events at which I haven't been stopped by someone who has exclaimed with some surprise, that I'm not wearing a waistcoat. I thoroughly confused everyone on Friday when I was interviewing Judith by not wearing a waistcoat then either. I feel like I'd better put one on again for my interview with Robert or risk the wrath of the audience…
As ever, there have been old friends to say hello to, thought-provoking questions from the audience, and very humbling and complimentary comments from those who have travelled huge distances – sometimes daily – because they have wanted to attend the talks as well as the concerts. I feel as if this has become an annual refrain of mine, but I think it can't be stressed enough that, at their very best, festivals provide a rich opportunity to do something that is much trickier in a long-term concert series: the chance to assemble an audience who come to trust the organisers enough that they are willing to try things they have never tried before. And in Christopher Glynn, the Ryedale Festival has a truly brilliant and creative programmer who assembles a hugely varied and eclectic programme featuring a range of first class musicians.
From my own perspective, returning to Ryedale each year also gives me a sense of what audience members might be interested to know about a given composer or work; what live examples might provide insights into pieces they don't yet know (and I've been extremely lucky in the Albions and friends being so willing to help me out by playing in the Dvořák talks)… and also what jokes they're most likely to laugh at. Possibly also, as of this year, which waistcoats I should pack if I'm fortunate enough to be invited again next year.
There are, I think, for most of us (I hope), moments when a particular experience reminds us why we do what we do for a living, even if we're tired, or grumpy, or still slightly panicked from this being the first time that we've had to park in a graveyard on bumpy grass and try not to hit the remnants of tree stumps on the way in (that one's probably just me, but then this is an awful lot of driving in new territory, and that's certainly been part of this year's adventure)… a moment brings to us, vividly, why we love our work. Addressing people who you can hear are listening to you, feeling them have that 'aha' moment when you explain how a certain theme or scale is put together, sitting across the stage from a prodigiously talented musician and having the privilege of asking them about how they have made the amazing things they have made – these are all moments of that kind for me. Being a waistcoat celeb is just an added bonus. I'm so looking forward to my last interview with Robert, to the superb concert of Monteverdi which I know will follow… and to the possibility that next year, if time, planning and waistcoats allow, I might be fortunate enough to get to do it all again.