Let's Play 3: Christopher Glynn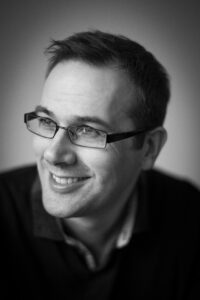 Christopher Glynn is a highly successful pianist – a song accompanist and chamber musician – as well as being the artistic director of the Ryedale Festival in North Yorkshire, which usually runs for two weeks in July. Since the festival couldn't go ahead as normal, RyeStream was created to share a series of performances filmed in festival venues. I asked Chris how he works his double existence as artistic director and performer; and what the future might look like, now that Ryedale – as with so many other festivals and venues – has dipped its toe into digital waters. So how did his connection with Ryedale begin?
'I went to play there in 2008, and became really interested in the festival, how friendly it was, how it had such amazing venues. About two years later they advertised for an artistic director, so I wrote them a letter. And here I am, almost ten years later! It's been a joy.'
Chris's approach to running Ryedale has been focused on bringing together big-name artists with musicians I've often not yet encountered, at the beginning of their careers. 'I see it as creating a hub of activity and support in a local area and then taking a chance on some emerging musicians alongside the bankable ones, and on some new ideas alongside the well-established formats. I think of festivals as having three elements: people, place and programme. The people and the places at Ryedale are both second to none – you really couldn't ask for more. So it just feels very exciting to put a programme together to go with them.'
The desire to support younger musicians comes partly from Chris's own experience of being the pianist – and organist – on whom others took a chance when he was starting out. He taught himself to play the piano before he could read music, and later became the organist at the local church whilst also playing jazz at a piano bar in his hometown of Leicester. And there was another crucial building in Leicester that was to have an enormous impact.
'There was a wonderful music library in Leicester, publicly funded, and from the age of seven until when I left home, it was like my second home. I'll never forget this music library, I spent a lot of time there, encouraged by my dad, who also a regular borrower. I was obsessed with taking out LPs and scores, it was a journey I went on by myself. And it was transformational. I got into classical music at an early age, and I dreamt about programming obscure and long-neglected composers. at a really early age. I remember really wanting to do a Myaskovsky revival! I was just very absorbed in music. In general, I think that the local-level infrastructure of music-making – a library, a concert hall, a festival, a choir – is incredibly important. So it saddens me that the Leicester library has gone the way of so many others.'
After winning an organ scholarship to Oxford (Edward Higginbottom 'took a chance' on him, Chris says), he began to accompany singers from the chapel choirs and got to know the song repertoire. He decided that this was the music he loved most but thought it was too late to make a career as a pianist. At this point, another musician 'took a chance' on Chris: the pianist and teacher John Streets. 'He was the person who came up to me and said, "you can do this. You just need a bit of help." I think the library, and the people who take a chance on you are so important.'
So he became a professional pianist, and in addition to concertising and running Ryedale, he also teaches at the Royal Academy of Music (and was even the hand-double of Antonio Banderas in the 2016 film Finding Altamira). What, then, does a festival artistic director actually do? And how much time does it take?
'Programming is the central thing: what goes into the festival is my decision. But I'm also involved in decisions that aren't purely musical or programme-related. It really matters to me that the stage is at the right height, and people can see the performers' faces. It really matters to me to stand at the back and hear what the audience think. If you're asking people to pay subscriptions and make donations, they really need to feel that you're completely invested in it and really care about it, that it's not just an extra gig on the side of your performing career. They must feel that you really care about every aspect of it. Because they do. If I, or my team, ask one the many Ryedale volunteers to provide some food, edit a magazine, host an artist, steward a concert, or whatever, they take incredible care over it. I love that. And I think that's a big responsibility for us when we're leading it to do the same.'
'I've never added up, and it would be impossible to add up, how much time it takes, it's so intermingled with my other work. I'm always thinking about it.' In fact, Chris says, the time he would have previously spent reading a book on a plane or a train between concerts is now entirely filled with Ryedale business. 'It's stitched into my life, every aspect of it.'
And speaking of planes and trains, the business of musicians on tour – and the environmental sustainability of that – is something Chris feels we should be thinking about a lot more carefully. 'If a top-level artist flies into Heathrow to play at the Royal Festival Hall, then it really makes sense for them to then go and play in Birmingham, Glasgow, Wales, Ryedale, Cornwall, wherever…to go from court to court through the UK, before even thinking of taking another international flight. A bit more funding for the regions, and more joined-up thinking, would start to make that realistic. And artistic directors like me need to pick up the phone to each other much more to share our plans, and say: we've got this performer coming in 2023, where else can he or she play?'
Before we go further into the realms of international possibility, let's return to the local. Ryedale usually runs a spring weekend (which was scheduled this year for 20-22 March) plus the main festival in July. So what happened when lockdown was announced?
'We cancelled the Spring weekend two weeks before the date. We paid the performers and asked the audience to donate their ticket money if they could, which most of them did. My biggest worry for the summer festival was that we'd go ahead but only sell half the tickets, which would pretty much bankrupt us in an instant. But it gradually became obvious that we'd have to cancel (and we're going to reschedule everything at some point). I never realised how much work it is to cancel a festival.'
And then there was the decision to produce digital content. The hunger for music, clearly, was as great as ever, if not greater during lockdown. 'So how can we meet that? Also, what can we do for all the freelance musicians? I'm aware of so many people who are really struggling. And where's the silver lining? Where's the opportunity that comes out of this crisis? And that was what led us to RyeStream.'
Which meant finding artists willing to come and perform, a camera and sound crew, and permission to use spaces which would traditionally feature during the festival – a challenge, since at the point planning began, the Church of England was still closed, and many of the Ryedale venues are local churches. The team also had to build the online platform, which was 'a really steep learning curve – a lot of sleepless nights. If we'd sat and thought about it logically, we might have concluded it would take about two years to do. But thanks to the dedication of the Ryedale team, we did it in six weeks. There's nothing like a crisis!' A big part of that has been the energy and determination of the small team who run the festival. 'There's really something about the nimbleness and agility of smaller organisations like ours,' Chris observes, in comparison to bigger venues and organisations which have inevitably been slower to react: 'You can't turn a big ship around on a sixpence.'
The result of the festival team's hard work has been a string of beautifully produced videos from excellent performers, including the Carducci Quartet, Rachel Podger, and Chris himself accompanying soprano Rowan Pierce violinist Tamsin Waley-Cohen. But despite the quality of footage being far superior to many of the taped-on-a-shoestring lockdown offerings, Chris is adamant that the tech shouldn't exclude simplicity. He was struck by the June concert series from Wigmore Hall, which showed 'what you can do with a well-placed camera angle and a great artist. It doesn't need to be complicated.'
Ryestream is currently free, although donations are encouraged. Does that undermine the value of the content, given just how much is available for free at the moment?
'I thought that a donation model would be more effective – to start with – than putting content behind a paywall. And so far the figures bear this out: we've had a very good response to our call for donations and far more people have watched than could ever have fitted in any of our venues. That money will end up in the pockets of musicians. In the long term, we will need to charge in a more structured way for content. And we should do that in a more co-ordinated way throughout the sector, so that we don't undermine each other, and find a way of making it work – but that's a bigger conversation.'
Monetising is not straightforward and is partly conditioned by the technology underpinning the platform (how many YouTube subscribers you have, for instance). A different approach is being taken by the Oxford Lieder Festival, which is selling online passes to their October events. But of course, different approaches will suit different festivals – and 'one of the biggest things we should take out of this is that we're all going to have to talk to each other about this and collaborate.'
And of course, digital resources make things available to a far wider – potentially international – audience and pool of supporters. 'The internet is a huge opportunity for any minority interest – and I guess you have to count classical music as a minority interest –  and COVID has just supercharged that… You enjoyed a concert in person? So you can go home and watch it again. Or a housebound pensioner in Pickering can go to the concert – they can watch on Ryestream. Or your person in Portsmouth can watch it, because they love classical music and they're a fan of Isata Kanneh-Mason.' The broader possibilities are still to discover – how to integrate digital and in-person events in a way that is accessible in the best possible sense without, for example, undermining touring schedules for performers. And Chris also points to the potential of adapting to social media models of sharing. 'I'm a real fan of Ian McMillan's tweets – he's made the tweet an artform. I think there's generally something about smallness at the moment, whether it's TikTok or Twitter: how can you make something meaningful in that incredibly condensed space? How can you master the form?'
The future, then, is rich with possibilities, if bigger strategic conversations can be had about funding and joined-up thinking around the UK for touring artists and setting fees and ticket prices. In the meantime, as we wait to see what events might run over the coming months, what can we do to help?
'You can come along, when we're back. You can become a friend. And most of all you can also become part of the dialogue. I see being an artistic director as a conversation: the programming is what comes out of the conversation between me and the audience. So please come, and please tell us what you think – tell us what you like, what you don't like, what you think music should be. Everyone's got something to offer. I'd like more people to join the conversation and bring different perspectives. It's really important that we keep welcoming new people to the classical music party.'
Ryestream performances are available on YouTube and via the website until Sunday 16 August.