The best of memories
I didn't get around to writing a blog post last week. I'd just received the very sad news that Philip Weller, one of the most important musical influences on my life and career, and a dear friend, had died. Philip was a long-serving member of staff at the University of Nottingham, where he taught me both as an undergraduate and Masters student, conducted the university choir for which I played, organised other performances, took me and a few others on opera trips, and dropped round for tea and cake. I've always described Philip, in speaking of him to others, as the person who taught me to think. Certainly he was the person who opened all kinds of doors to other things I knew nothing about – musical, artistic poetic – and always with huge passion, wit and lightness of touch. So I thought I'd share just a few of my favourite Philip memories.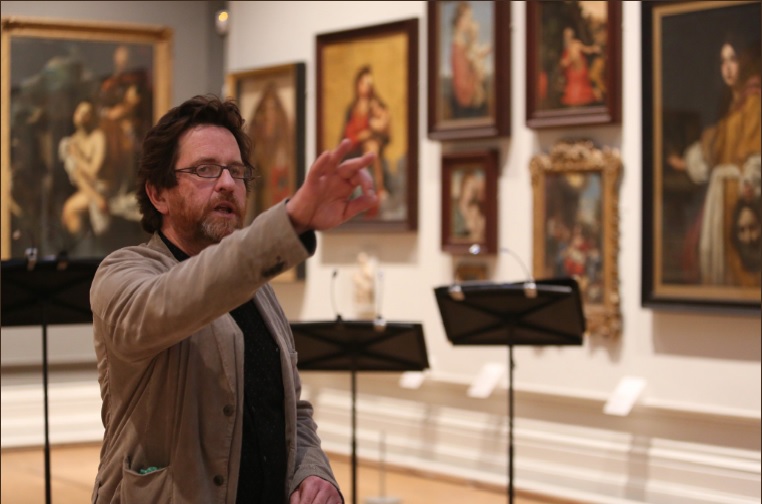 Critical Thinking. Each year, Philip taught a first and second year history course to all the music students called 'Critical Thinking'. It was very varied in its musical content, from Renaissance to twentieth-century repertoire (and in one session he got everyone to turn on their mobile phone ringtones and wandered around the room listening to them and passing judgement on which tunes he liked the best). He spent a lot of time working on how we thought about subjects, organised information, planned essays and so on. His tutorials always included the production of little spidery mind-maps which he would then photocopy so he could keep a version for reference. His handwriting was not the easiest and quite soon I became chief interpreter for the younger students. By the time I was doing my Masters I had become a sort of unofficial translator and I didn't think he knew… until he came to find me not long before I graduated. 'It's going to be strange with you gone,' he said. 'What am I going to do now that the students can't come to you for secondary tutoring?!'
Translation in action. In my first year at Nottingham, Philip conducted the university choir. The repertoire was largely Schubert, Schumann and Brahms – in fact, it was this that got me into the repertoire which would eventually form the basis of my PhD research, thanks to the support and encouragement of Robert Pascall. Since Philip knew I'd done German A/S, he asked me if I'd put together some basic translations of the pieces so that we could work through them together. For whatever reason I found it particularly tricky to  track down a translation of the German word 'girret', and in one of the songs I had to look at, a group of little doves begin to 'girren'. We sat the next day outside Philip's office as he looked through, and fixed, my decidedly wobbly translations. 'It's onomatopoeic,' he said when we got to the mystery dove verb. 'Girren' is 'to coo' – because it sounds like cooing, doesn't it?'. And he began to coo, rather convincingly, as various other students wandered past looking decidedly baffled.
New books. I think it would be fair to say that I was a pretty precocious little swot at university. I can't quite remember how it began, but after a while, Philip used to sit with me and make me reading lists for the holidays. But they were not simple reams of music biography – on the contrary. It was through those lists that I came to read Arthurian Romances; see the photography of Henri Cartier-Bresson; discover Roland Barthes, and quite a bit about Greek mythology, and the heartbreakingly beautiful Le Grand Meaulnes by Alain-Fournier. I owe him an awful lot for those.
A fitting send-off. That's not to say, of course, that all we did was study and translate and write. A mutual friend had a canal boat, and one sunny day (I think I was a postgrad by this point) we all went off along the canal and into Nottingham. It was a lovely journey, Philip and I were in charge of locks, and so far along the route we set about making tea. No one had been in the boat for a while, and on fiddling about getting the tea ready, one of our little group let out a shriek on discovering the body of a very large, though thankfully very dead, spider in one of the mugs. Philip took it out to the front of the boat, waited until we were passing under a particularly resonant bridge, and then sang it a brief and entirely liturgically accurate Requiem in Latin before plopping it into the water.
Are you getting a sense of this amazing man? He was utterly brilliant, and his knowledge across subjects and history was just astonishing… but he was also wonderfully eccentric and had a grand sense of the ridiculous. No wonder we all adored him so much. The final anecdote, however, must go to something he said to me once which irritated me hugely at the time, but in retrospect was a rather valuable lesson. (Of course – I should have trusted him by then, really, to have worked out such a thing.) We were performing together in a concert, playing the Three Pieces for String Quartet by Stravinsky in the piano duet arrangement. I was tired, and I imagine so was he: it was near the end of term, we didn't have long to learn it, all the usual business. There was one particular bit that I kept screwing up, and I was getting more and more frustrated. As we played it through for the third or fourth time, I messed up again and said angrily, 'Aaargh, I keep hitting this note instead of this note.' Philip looked at me and smiled slightly. And he said simply, 'Well, don't.' I think I mumbled something grumpy and we carried on. But he had a point – a very good one. And that calm, slightly amused voice is with me still when I'm getting irate about similar problems. Just as his lovely resonant voice is there when I think of recitation and singing (and spiders' burials at sea), and his ways of thinking are with me every time I pick up a pen. How wonderfully lucky I was to know him. He will be sorely missed. And so very warmly remembered.